Join an RIA
Unlock your advantage
Join a successful, culturally-aligned advisory firm within the Dynasty Network. Leverage an established platform with the resources you need for growth and scale, the means to focus where needed, and the independence to do what is in the best interest of your clients.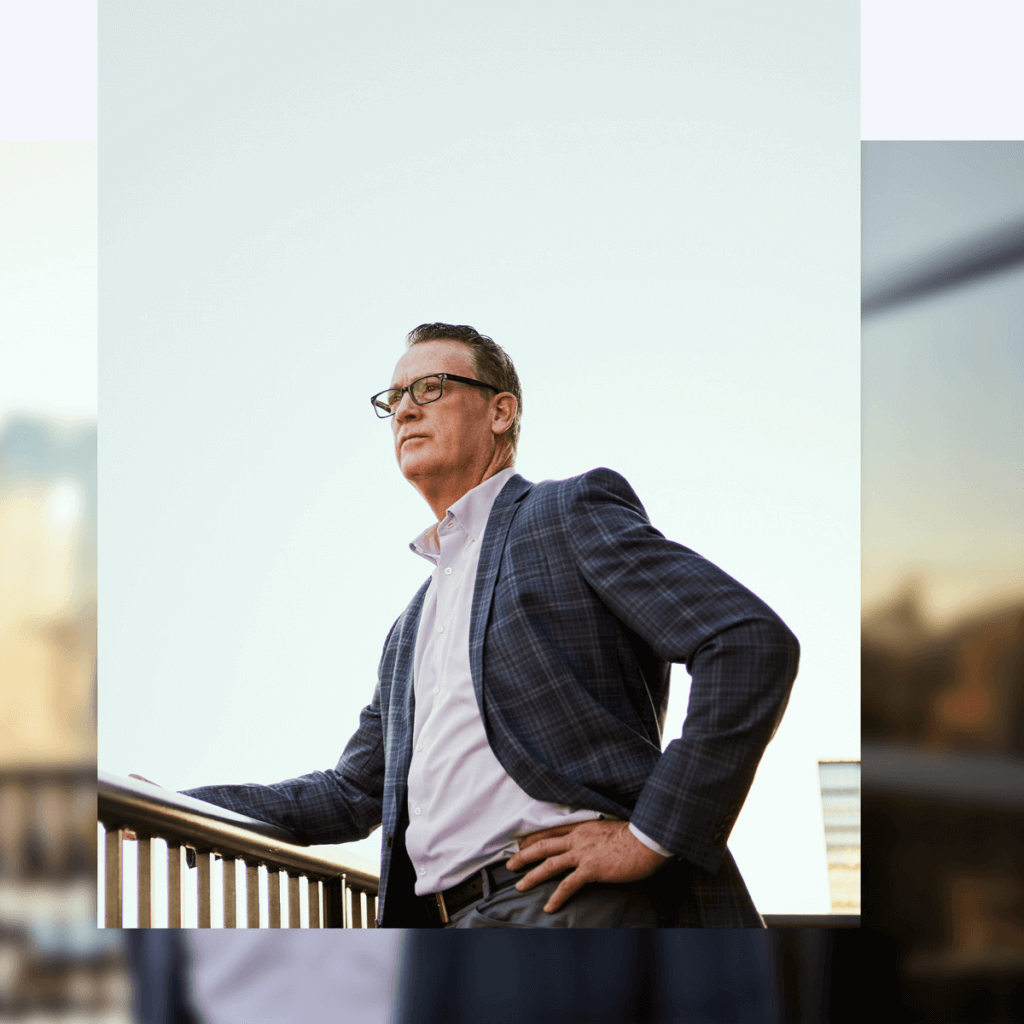 Accelerate growth with an established firm
Get back to what you value and work with those who value the same. With over 47 successful firms in the Dynasty Network, we can help you find a team that understands your goals, has an established, tech-enabled platform, and offers the freedom to provide customized wealth management to your clients.
Advisor insights
Dynasty Network advisors share their perspectives on the benefits of full independence.
" For the advisor that wants to do something in between starting their own firm and going to another wirehouse, joining an existing RIA is a really great option. If it's a smart RIA, they will offer ways to participate in the enterprise value that we're creating and a good payout. "
Jason Fertitta
Chief Executive Officer & Partner, Americana Partners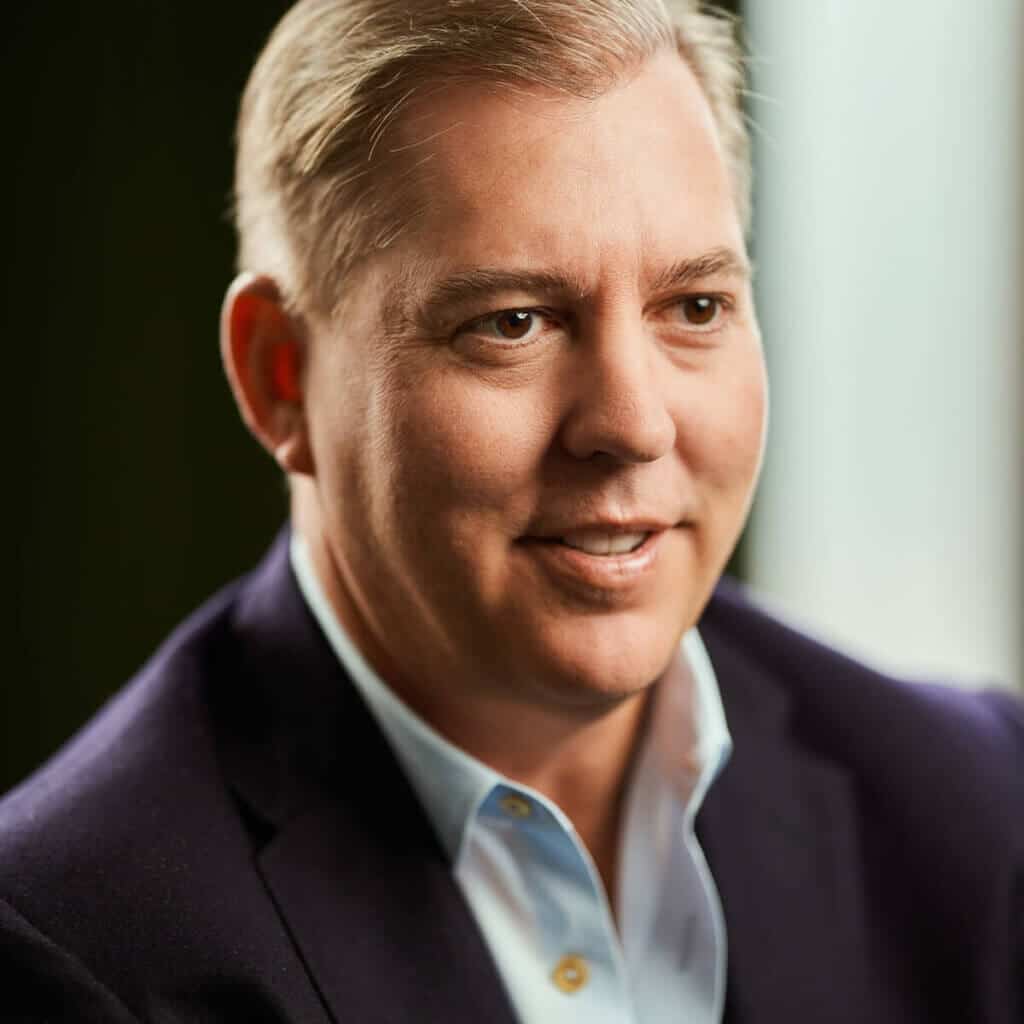 " When considering joining a firm, it needs to be the right fit. There are a lot of advisors out there trying to do M&A and are trying to fit square pegs in round holes. Ensure you have a likemindedness from a business and personal standpoint by always asking 'What drives you to go to work every day? "
Michael Durso
Founding Partner & Chief Investment Officer, ShoreHaven Wealth Partners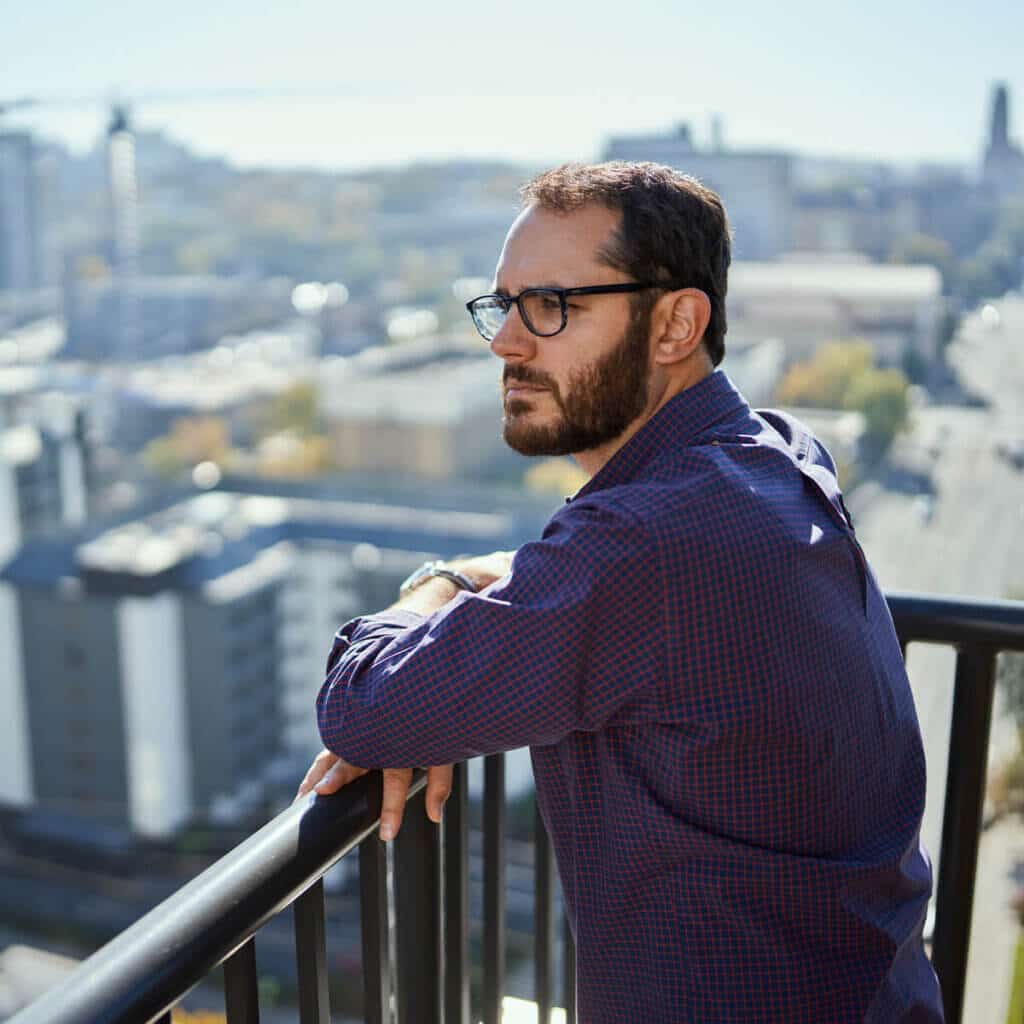 " Starting your own firm is not for everyone, some people don't want to tackle that mountain. For an advisor wanting to join a firm, culture is huge. Ensure you're around people you like and enjoy working with. After that, make sure that your clients are being well taken care of and you have the tools to do it as an advisor. Lastly, economics. The nice thing about being an RIA is the ability to create or sculpt deals in many ways, whether it's cash up front, equity in the firm, or a combination of the two. "
Matt Kilgroe
President & CEO, Cyndeo Wealth Partners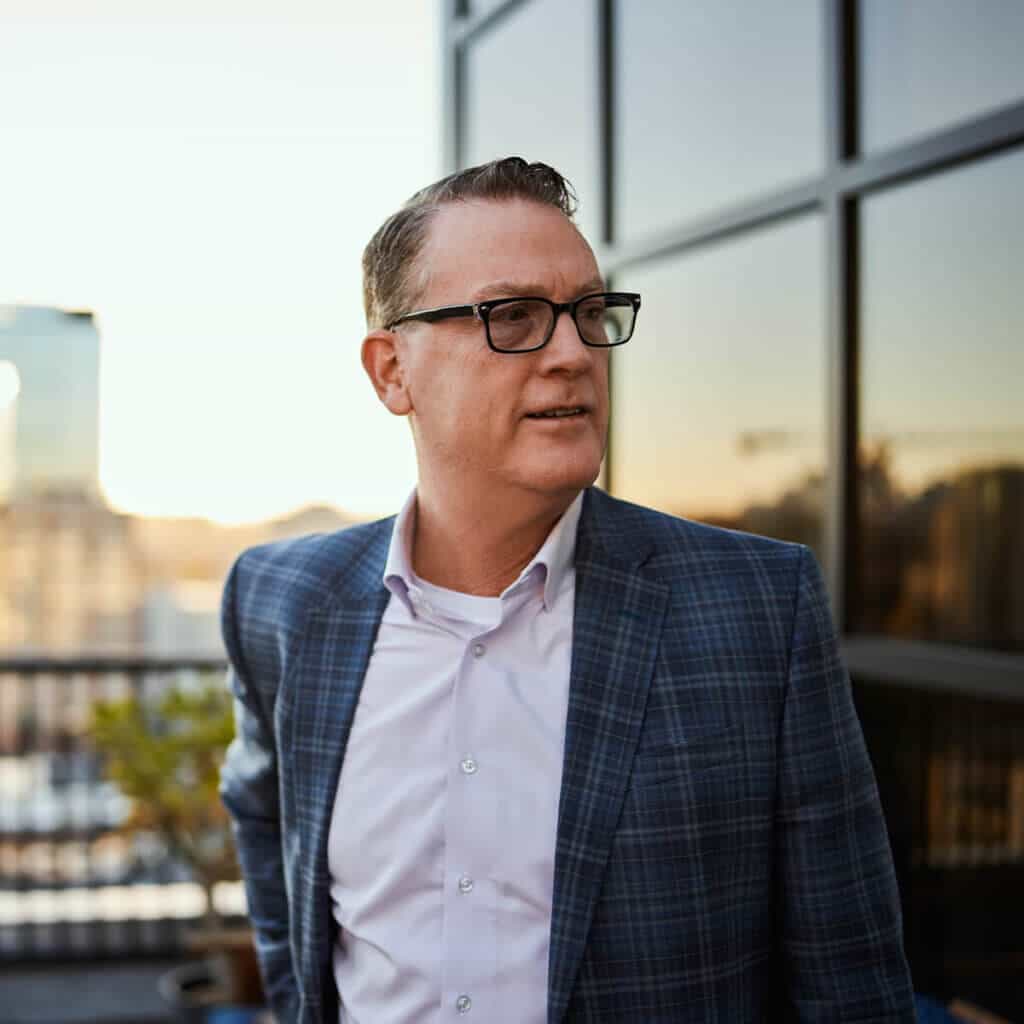 Powered by Dynasty
A partnership of value
M&A is more than just doing a deal. It's about adding or joining a team that builds sustainable enterprise value over time while honoring the culture and legacy you have created.
Our M&A team is dedicated to partnering with you to provide sound advice, tools, and strategies to be an advisor to advisors; so you can feel fully equipped and ready to succeed in strategic M&A.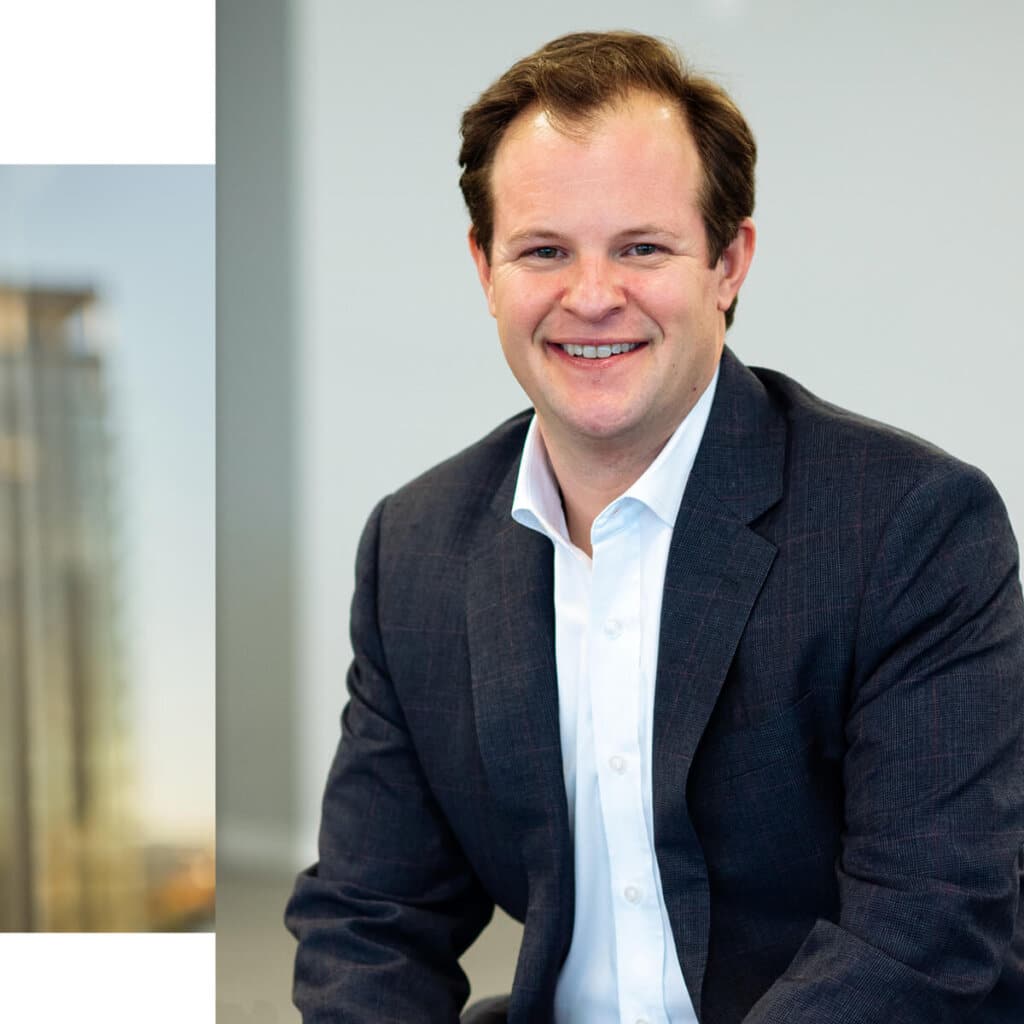 Dynasty Business Solutions
Better serve your clients and build enterprise value through our unparalleled WealthTech platform and proprietary combination of integrated solutions and differentiated services.
Transition process
Our comprehensive and proven transition process helps ensure a successful launch of your new firm, through our detailed, hands-on process that guides advisors in all steps involved in transitioning their business.
Full-time transition lead
Act as single point of contact across all components of your transition
Identify and develop relationships with key Dynasty preferred resource partners
Manage all strategic partner relationships
Introduce and consult on all Resource Partners
Business formation and firm structure
Determine ownership structure
Develop corporate strategy and structure
Create legal entity (LLC, Corporation)
Assist in drafting Operating Agreement

Determine business insurance needs
Legal and compliance setup
Initiate firm and representative registrations (Form ADV and Form U4)
Draft required compliance policies and procedures
Educate and train firm CCO and staff via 'CCO Course'
Develop Investment Advisory Agreement
Real Estate search and office set up
Execute NDA with Property Management Company and Real Estate Company

Identify office space and negotiate leasing terms
Consult on office buildout
Coordinate furniture and move in deliveries
Custodian transition and complete asset mapping
Review and select custodian
All client holdings and money movement needs
3rd party money managers
Structured products
Credit and lending products
Insurance
Brand development and marketing strategy
Introduction to Dynasty Marketing Resources
Brand DNA and core messaging
Digital marketing, social media and marketing
Website development and data platform
PR and Communications strategy
Marketing data dashboard, analytics and insights
Departure and client communication strategy
Consult on protocol or non-protocol communication options
Draft client letters communication
Assist with digital outreach
On-site support for transition date
Your on-site COO during the transition process
Organize and send client kits
On-site team coaching and staff training
Core services
We work as a direct extension of your team, integrating our expertise, critical business functions, and middle and back-office requirements.
Community
Connect with peers and industry leaders through exclusive events, education, peer-to-peer networking, and shared experiences that promote collaboration, strategic alliances, and continued growth.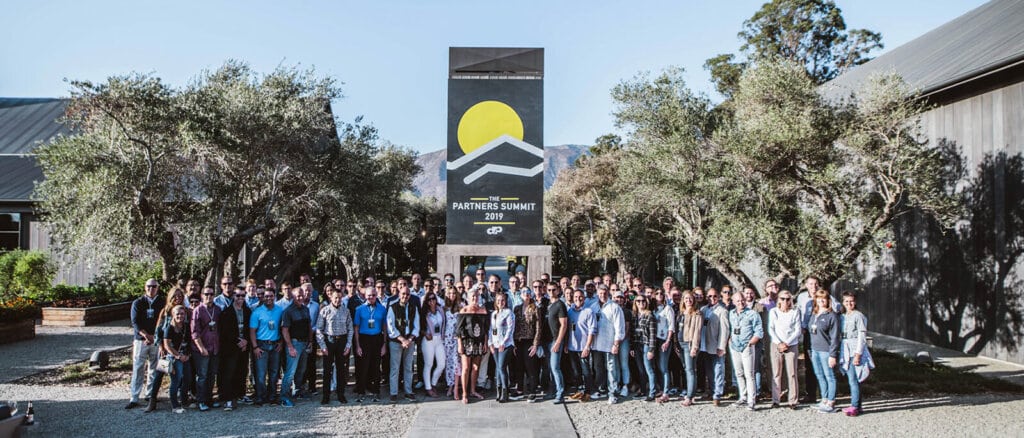 Technology & CRM
Infrastructure, training, analytics, and advice that drive an integrated, dynamic ecosystem of institutional quality allowing advisors to efficiently grow their business and securely serve their clients.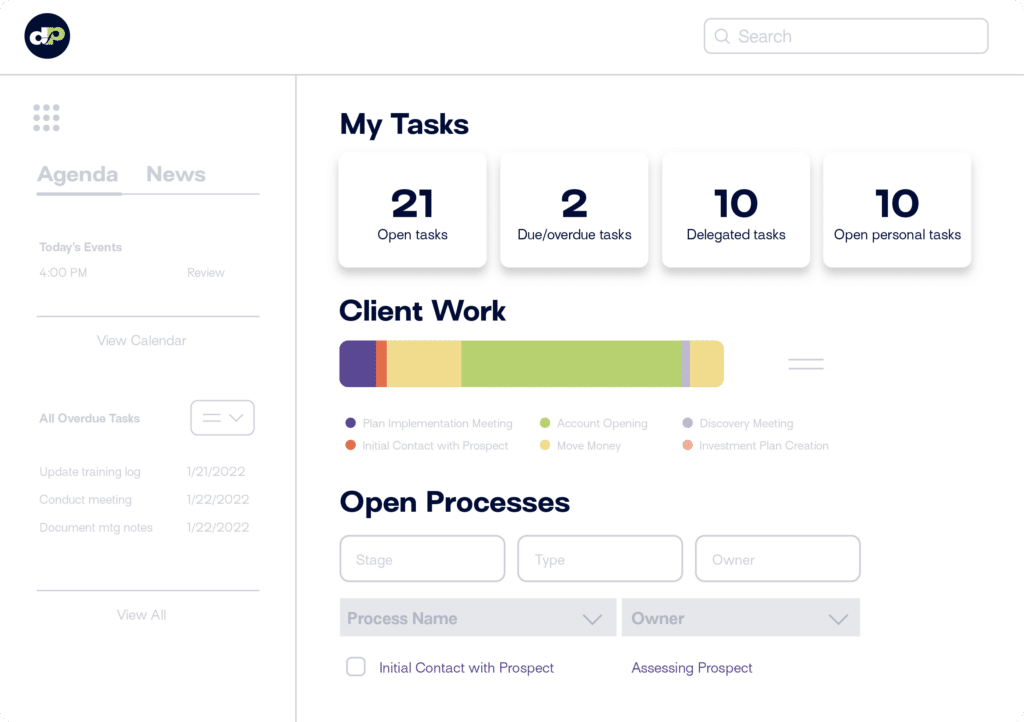 Finance
Premier financial and strategic services, backed by proprietary analytics, that help advisors accelerate profitability and maximize enterprise value at every stage of growth.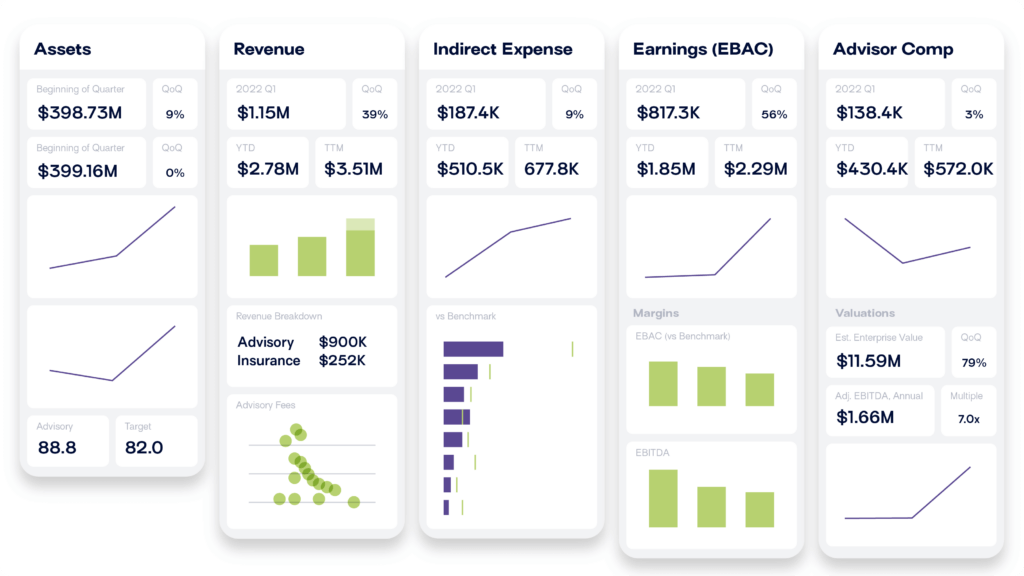 Investments & Operations
Research, tools, technology, manager access, operations, trading capabilities, and compliance support are needed to offer professional and scalable investment solutions.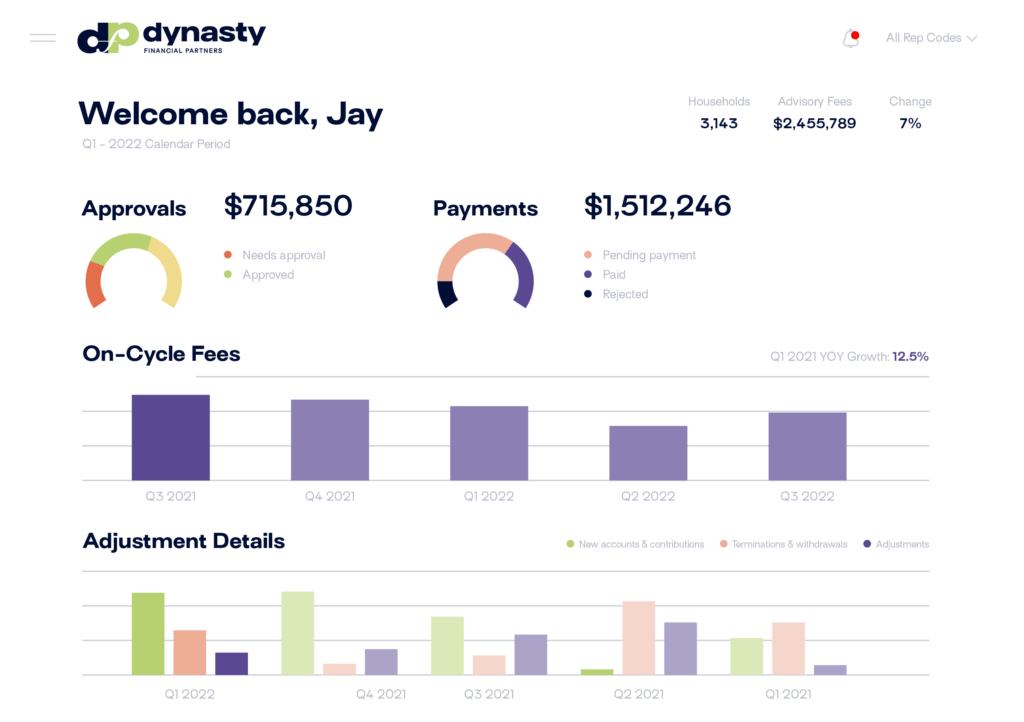 Marketing
Customized growth-oriented branding and communications strategies focused on lead generation, client experience, and lasting brand equity.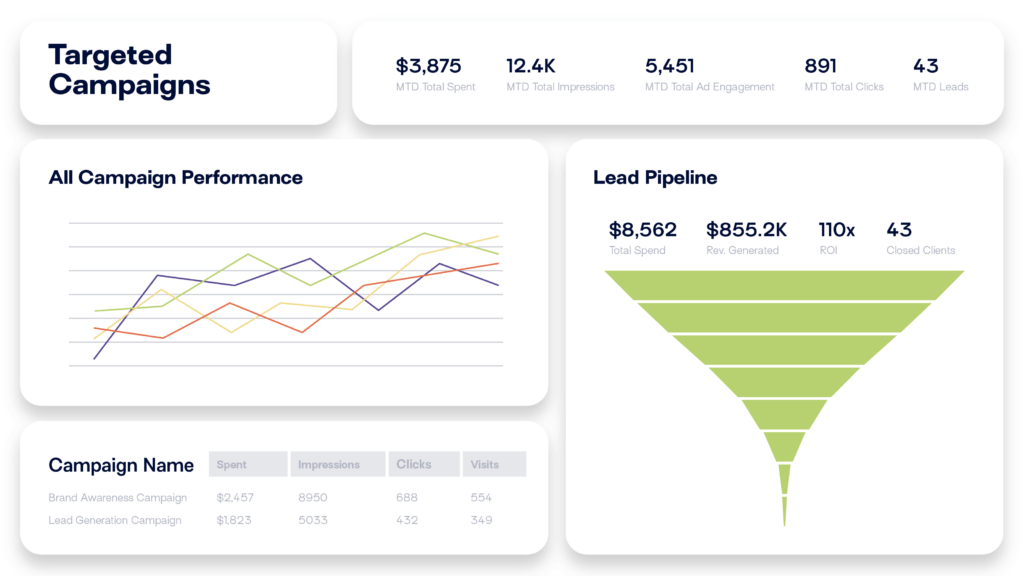 Compliance
A comprehensive compliance solution with the structure, content, tools, and advice to protect the advisor's firm and clients that takes the complexity and uncertainty out of compliance.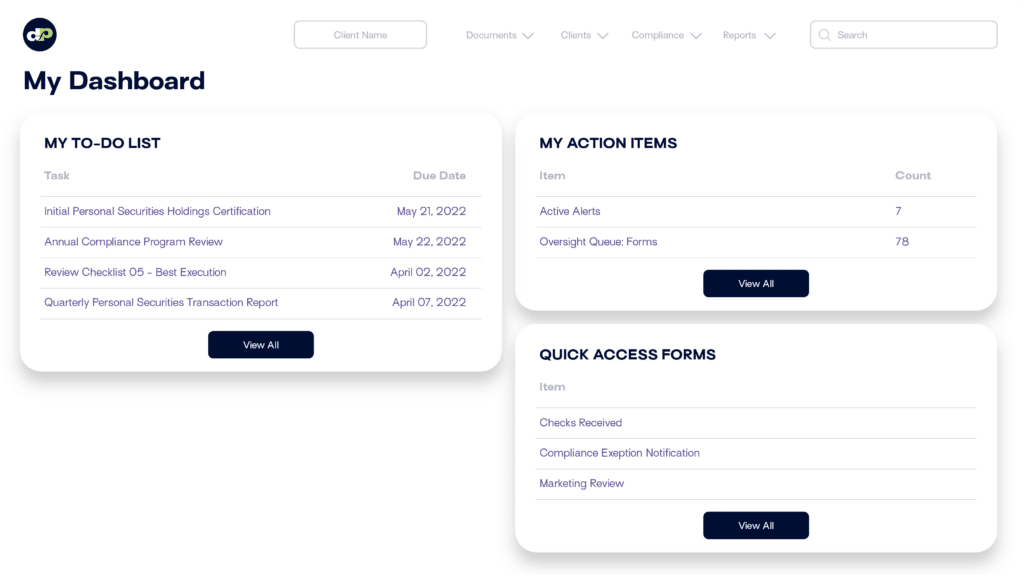 Practice Management
Drive growth in day-to-day operations, achieve long-term objectives, and optimize your clients' experience through practice management coaching, programs, and webinars.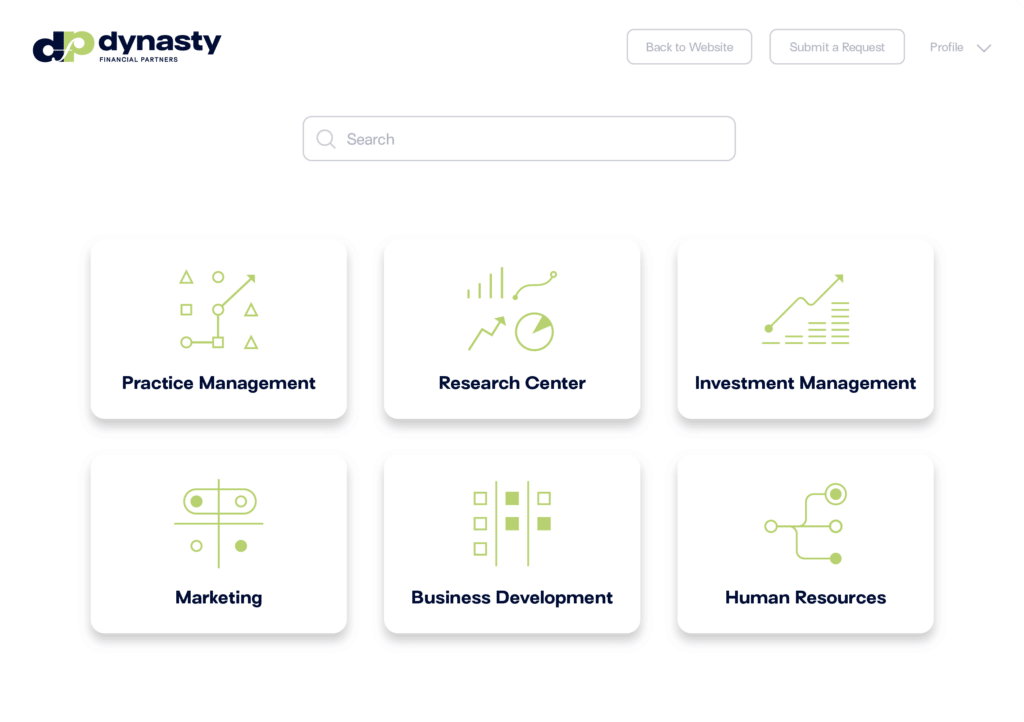 Investments Platform
Dynasty's Investments Team provides independent advisors with a flexible, customizable platform integrating research, tools, technology, manager access, operations, and compliance support.
Separately and unified managed accounts

Advisor as portfolio manager

Model management overlay

Alternatives platform

Capital markets
Outsourced CIO

Access to investment banking, insurance and lending oppportunities

Billing and research
M&A and Capital Strategies
Full-service M&A advisory capabilities
Dedicated business development resources to support advisor inorganic growth strategies
Deep bench of resources to support financial analysis, due diligence, and negotiation
Access to differentiated and flexible capital strategies program
Comprehensive and proven transition and integration teams
Traditional credit
Flexible structure
Covenant-lite terms
Interest only feature available
No use case restrictions
Revenue Participation Interest (RPI)
Preferred equity structure that monetizes revenue in exchange for capital
Innovative "true-up" feature provides additional capital to support growth initiatives, including M&A
Repurchase right available after a period of time
No use case restrictions
Minority equity
Noncontrolling, passive equity structure
Limited governance terms
Minimum investment period
No use case restrictions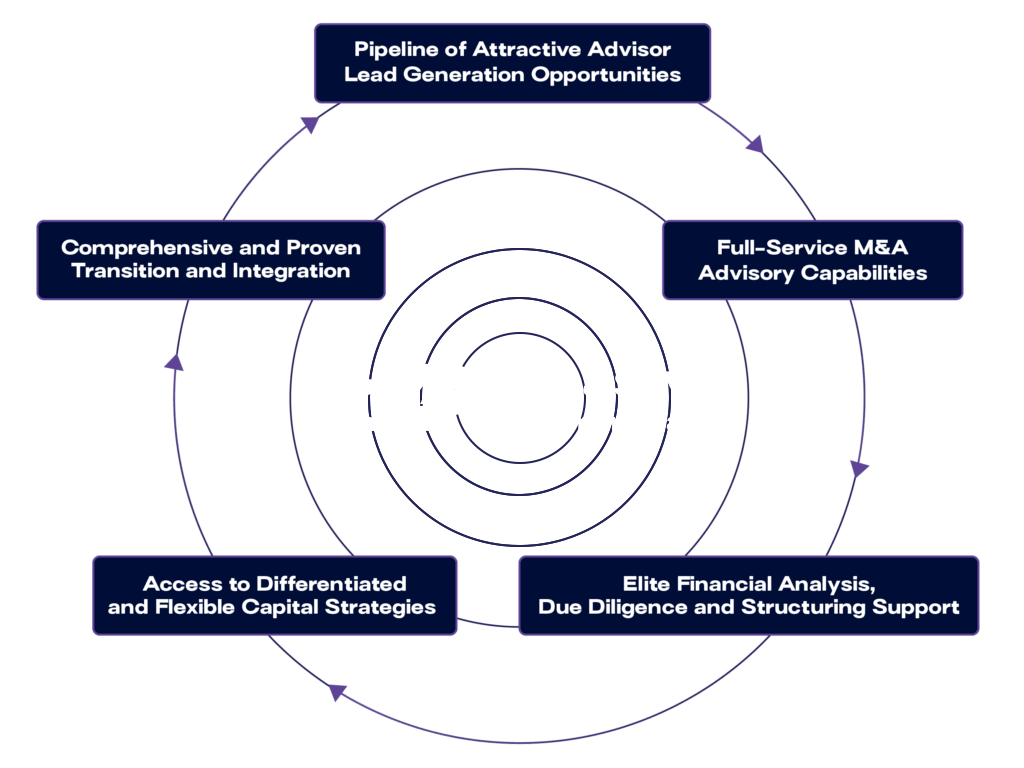 Business growth and scale
Business Management
Focus on productivity and profitability; we offer best practices to elevate client relationships, train senior advisors to become leaders, and drive new growth for your firm while continually fueling ideas and innovation.
Dynasty Enterprise Group
Consult with established RIAs interested in dramatically increasing their enterprise value and elevating their business to the next level. Our team builds bespoke strategic solutions and designs best practices to optimize their firm, increase profitability and improve growth.
Dynasty Marketing Services
In-house agency-style solution for Dynasty Network Partners looking to complement their marketing strategy with creative design and production.
Advisor Services Exchange
Business solution for independent advisors to ensure efficient operations and enterprise growth across these specialized individual offerings: M&A, Marketing, CFO, Compliance, and Capital.
Dynasty and Network Advisor News
Sign up and stay up to date
Receive updates about Dynasty and our Community of Network Partners.